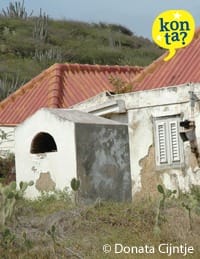 Ever since I was a small girl my parents have been taking my sister and I to Bandabou every Saturday afternoon. We would go swimming and stay till late on the beach. We would see the sun set and sit on my favorite beach (Playa Forti) and talk. After that we would stop to get the most amazing pia di galina (whole leg of chicken). It was deep fried and crispy… a touch of Soy Sauce and later some pika (onions and hot peppers in vinegar). This would have to be one of the first times food made an impression on me…. The more simple food is, the better it tastes. I used to look forward to going to Bandabou the whole week because I knew it would end in great conversations on the beach and a chicken leg all to myself.
With the years this tradition has evolved but my parents kept the tradition. Every weekend they would go to Bandabou. Only instead of Saturday it became Sunday and instead of swimming it became brunching/ lunching. Bandabou is one of the few remaining places where you can still get 'untainted' local food. So 4 years ago when I moved back to the island it was stewed goat meat with 'pan sera' (literally translated closed bread) or goat soup (with a pinch of fresh lemon and a piece of hot pepper) with pan sera. Pan sera is a rounded square between 10 and 15 cm long and wide, baked in a stone oven outside the house using wood. Back in the day that's how bread used to be made on the island and often in Bandabou you can still see these ovens outside really old houses or at least ruins of them. The bread itself is dense and when fresh from the oven it is warm and has a crispy exterior. Those Sundays would make the start of my week just awesome.


Lately I don't have a lot of Sundays off because of my job. So whenever I see a Sunday that I am off, I tell my parents that I am going to Bandabou with them. I think it's been the last two years that we lunch at Boka Largu Cafe (@playa Forti). It's their conch meat (karko), fresh fish (catch of the day) or stewed goat meat that impresses me. I always order one of the three or a combination of two. As the side dish I order 'funchi' or 'tutu'. Funchi is somewhat like polenta, it's made with cornmeal, water, a little butter and a pinch of salt. 'Tutu' is actually 'funchi' with black-eyed peas in it and sugar. Often 'tutu' is topped with regular Dutch cheese. The French fries caught my attention too. They are home peeled and deep fried potato slices… Crisp, salty and pure perfection.
Nico, the owner of Boca Largu Café, is also very upbeat and enthusiastic. He is always ready to show you a very good time. I always feel 'chillaxed' when I am lounging at Boca Largu Cafe. Good food, cold Polar beer, family, sea breeze… best way ever to start a new week. I highly recommend the experience.