It's no secret that I love good food and eating good food. I also love experimenting with food in the kitchen. Yeah well it can also be called cooking. Experimenting just sounds fancier. So I have been asked for the longest time to do a recipe on 'lomito'. I have been very busy these last 6 months, so I didn't really research or tested much but I do have a couple of favorite 'lomito', including my own spin on 'lomito'.
But before I get into that let me tell you where I had the best 'lomito' on the island. My mom's house, she makes 'lomito' in this really rich sauce made out of tomatoes, onions, paprika and some other stuff. It is just amazing. I have never bothered asking her how she does it because I don't want to know. I think it takes away from the charm of eating my mom's 'lomito'. I can tell you that it is super tender, super tasty and just addictive. My mom does everything with it. In fact I put my spin on one of her ways to do 'lomito' when I was living in Spain. My mom slices paper thin pieces of the meat (seasoned with salt and pepper) and sauté's this in a pan with butter. Just yummmm….. The smell of that is amazing. The result of that, lands on 2 French breads and Donata is a happy camper when I used to live at home. Today I am still a very happy camper when I am called to pick up my 'doggy bag'.
Then there is my favourite steakhouse on the island, El Gaucho. They have the most amazing assortment of steaks and their 'lomito' should get the Nobel price out of every restaurant I have been to on the island. I don't know what they season the meat with but it actually melts in my mouth. I always order it with French fries and I save to dip in the 'lomito' juices. Hmmmmm….. I know that is not a very accurate description of the taste but humor me.
Another place where I have had amazing 'lomito'… Naoki's (truk di pan) at the Sta. Rosaweg. 'Lomito ku batata' after a night out. You get this pile of French fries and this even bigger pile of 'lomito' pieces, some ketchup, some mayonnaise and peanut butter sauce. Needless to say: really guilty pleasure…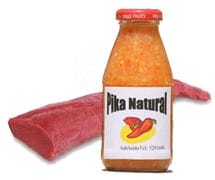 That being said I will tell you about my own favorite 'lomito' that I thought of in Spain. In Spain, much like in Italy, food is a religion and that's where I fell in love with cooking. In Spain we used to dine very late, because first (after work) there are tapas. That is the most amazing thing. In Spain I hosted a dinner party and one of the tapas I had served was a crostini (thin slice of baguette, toasted) with a paper thin slice of 'lomito' on it. In a mortar I had crushed garlic, fresh parsley, coarse salt and black pepper into some olive oil. I sliced the 'lomito' paper thin and put it in a freezer bag with the marinade I'd made. It can marinade anywhere from 10 minutes to ten days. The longer it marinades the deeper the flavor. I didn't use butter (keeping it healthy?!?!), I just sautéed it in a pan, with marinade and all. I sliced some onion and sautéed them too with the 'lomito'. It makes a really good garlicky sauce. Because the 'lomito' is paper thin, cooking time is anywhere from 3 to 5 minutes. This is basically my favorite 'lomito', now let me give you some ideas as to what I do with it.
With the leftovers I make a burrito with a tortilla, lettuce, tomato, cheese and 'pika'. My mom's French bread idea with a twist, I add parmesan cheese, garlic aioli and a massive amount of 'picalilly' mixed with a lot of finely minced really hot 'promente' (small hot peppers).
'Lomito' is really versatile and easy because it will stay tender, unless you char it. That is experience talking. It will take on any flavor. Oh by the way, another name for the famous 'lomito' is tenderloin (English) or ossehaas (dutch).