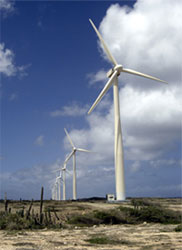 In Curaçao it is clear to see that one of the main industrial processes in the energy sector is refining oil. The 100-year old Isla oil refinery is located in the Schottegat harbour near the centre of the island and is rented to a Venezuelan state oil company. The refinery itself spans over a vast area of land and its many smoke stacks can be seen from a very far distance.
Conversely, Curaçao also offers an alternative source of energy which is tucked away along the north side of the island. If you take a drive or a bus ride toward the west side of the island you will notice, at a distance, a wind farm on your right. It is the Tera Kòrá wind farm which consists of 12, 250 kilowatt (kW) wind turbines with a total generation capacity of 3 megawatts (MW). And near the northeastern side of the island, in the opposite direction, is the Playa Kanoa wind farm consisting of 18, 500 kilowatt wind turbines with a total generation capacity of 9 MW.
This year renovations will begin in order to upgrade these wind farms by replacing the existing wind turbines with ones that will generate more electricity. The Tera Kòrá wind farm will increase its capacity to 9 MW and the Playa Kanoa wind farm to 21 MW. Although the capacity is still small compared to that of the refinery, more clean and renewable energy will be fed into the island's electricity grid and distributed by Aqualectra, the island's utility company and owner of the electricity grid. This is a good step in the right direction for Curaçao since one of the key issues around the world is global warming. It is a great way to send a message to the government and residents of Curaçao that there are alternative methods to generate electricity without the emission of greenhouse gases that are damaging to public health and our environment.
So if you are ever in the neighbourhood, check out these beautiful wind farms and see for yourself where 'green' energy in Curaçao comes from.